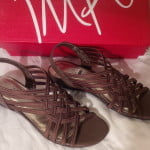 Amputees may not change their legs as often as others may change their shoes, but I am sure you are fully aware that eventually shoes wear out and you need to get new ones.  It might be that the sole becomes worn and uneven, or the leather scrunches up and rubs and doesn't stay in the right place on your foot, or they just show real wear and tear and are no longer in style. Well, just like your shoes may need replacing, our prostheses eventually need updating too.
It may be for different reasons such as we lose weight, lose muscle or just plain old change shape as time goes on. This makes the old legs uncomfortable and you are well and ready for new ones.
Although, I do get asked alot – once I get my legs cast, how are they going?
Getting a new leg made has a bit of a process behind it. It isn't quite like going into a shoe store and taking them home in a pretty perfect oblong well designed box.
First we need to make sure the liners are still fitting nice and snug. For me, this time I had dropped a size or more on each leg – so we needed to start the process of getting the new liner.
Just like you wear socks with your shoes, you need to make sure that you are not wearing a size 9 men's sock for a ladies size 6 shoe!
Ok, so we get the liner right – and now you need to get the plaster cast done. It isn't all that messy as they cover you with the old staple kitchen item of cling wrap! Lots of things that look like smiley faces are drawn all over your leg just so that all the prominent shapes are noted. If there are any sore or protruding areas, this is also marked – and this comes through on the inside of the plaster for their reference. The plaster is soaked in water and molded to fit your stump. This is a much messier process for your Prosthetist!
After the cast is set and done, the Prosthetist goes away and makes what is called a 'check-socket'. The name is clearly obvious to what it is for – to check if the socket fits! You have a bit of a walk around, see if there are any bits rubbing, or if they fit without causing pain.
They look like robot legs.
Generally, you don't get to take them home with you. There is the odd occasion you do – but it is not something that is necessary or even sometimes safe. They are a temporary cast only. I did take some home with me once, I had brand new feet with springs in them to test out. Lucky I took them home as my balance couldn't cope with it – so decided not to go with the 'flexi-feet'!
So after the check-socket there is the waiting …… we wait, we wait and we wait! There might be new parts – locks, feet or other bits you are waiting on. This is a frustrating process as people are automatically thinking you have your new legs ready and made. This is so not the case.
It all continues again. You get your new legs, and this time you do get to take them home and test out for a bit so that again you can make sure you can tolerate them and that they are comfortable. There is also the decision of if you want to be made taller as well. And yes, this is an option for a double amputee – and I will say I have only done it once. J
But no, it doesn't end there ……
Once they are all good to go, you have no 'pain points' or they aren't rubbing and you know they fit perfectly, the steps for the pretty bits need to happen. For me, this is the most exciting part but in the past has been the most frustrating part. There is always the risk that your Prosthetist doesn't get you, and this relationship always needs to be a solid one so you are always on the same page. Having your legs come back to you with calves that are fatter than your thighs is just not on! I've learned the hard way now to ensure we do a measure before the process starts! The next step after this are the 'skins' or skinergy – this is the outer cover that makes my legs look real.
So as you can see, this is in no way as simple as going to a store and buying a new pair of shoes. For me, this process has never been completed under the 8 week mark!  Yet, the impact for an uncomfortable prosthesis can be much more severe than an uncomfortable shoe.
So as I've said before 'Give a girl the right shoes and she can conquer the world', but give her the right legs and she can kick ass!