It is a funny thing the beach, if we all really admit to it – who really likes sand? I remember as a kid, going to the beach with my family, especially with my dad. Some memories are mixed, and it feels so very long ago. I can't really recall which I hated more – wet or dry sand. Either way, that gritty feeling between your toes where you just can't wait to get in the water to wash it away.
But there were some really great things about the beach and the ocean, and as a kid it overwhelmed me. I wanted to be in it, be a part of it and I was always drawn to it. It felt like a whole other world, one to escape in. Crashing waves where the sense of this great monstrosity was in two minds about the land – the tide came in, and the tide came out. Did it want to be part of us, or did it want to scare us not to come in?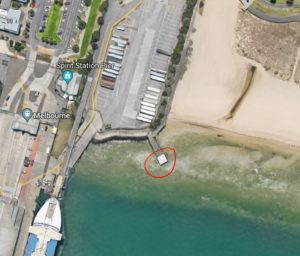 For me, it was such a long time in between 'drinks' (aka dips in the ocean), as health issues prevented me from experiencing something I once loved. Until recently, the last time I had a real dip in the ocean was way back in 1982. I thought about it often. I would head down to Port Melbourne, as a person with disability it was much easier to find a park. I'd get in my wheelchair, and roll all the way down to the side jetty at Station Pier. When the tide was in, and even better if it was a windy day, I'd get the spray of sea water on my skin. It was the closest reach of the ocean I could get – and anything was better than nothing.
In being diagnosed with Scleroderma at a young age, this led to many issues with my legs and feet. I had ulcers that wouldn't heal, and many skin grafts where it was advised not to 'get them wet' to ensure they would 'take'. This of course prevented all sorts of the usual experiences a kid would normally enjoy, and this included a day at the beach.
It wasn't until may years later once I became a double amputee that for the first time in a long time, I had the opportunity to get right into it, have my whole body immersed in the ocean and float away with the waves. It was a close friend in Perth who really brought me back to the childhood memory I once cherished. It was an amazing feeling to savor one of the many freedoms and experiences I had missed out on for a very long time. It was so great being out in the vast monstrosity of the ocean yet again. It always feels bigger than us – like once you are in it, you literally are like a 'drop in the ocean'.
But in looking at this new found freedom of the ocean, I once again discovered how much the options were limited. As a person with disability, access to the Aussie beach culture that many take for granted was not within my local community. I still only had the option to drive to to the foreshore, sit by the bay at arms length and watch others enjoy. Always observing with a longing to participate.
Access to the ocean should be easy for everyone. The implementation of the beach matting and floating wheelchairs at Port Melbourne and St Kilda beaches in Melbourne has been a huge step forward in inclusion for people with disability. And for me, I can now access my local beach. The beach matting allows for easy access for all types of mobility aids, and the extra bonus for me would have been less sand in my toes! St Kilda has the access we need – accessible shower, a hoist for transfer and easy access to get there by accessible public transport.
Australia has an identity long associated with beach culture, with the majority of our population living near a coastline. The beach is a place where we meet, relax and have fun in the sun. This should be no different for people with disability. It is about time we looked at more access to more beaches across our amazing country.
If everybody had an ocean ……..