For as long as I remember, life has always provided me with options. Whether they be social options, dinner with the family or a night out with friends. Dating options, tall dark and handsome or a rebel without a cause. Career options, a job that pays more or the dream job that pays less. The opportunity or even sometimes power to choose between two or more options is what life throws at you over and over.
So what happens in a world where you have been accustomed to no choice? You don't get to decide on what the final outcome is, and your power is taken away to experience something the way you want it. That has been the general system in place when it comes to being 'given' your prostheses. As a double amputee, and a user of this type of system, it is like being made to feel it is a privilege to even have prostheses.
For some, being an amputee is a life changing experience. It is not something I was born with, and although THAT was my choice, the decision to have my legs amputated in order to improve my life,  I shouldn't be be told or coerced into what is right or best for me.
Over the years, the journey of learning about prostheses has been like a roller-coaster. Finding resources is something that just doesn't happen, and you are extremely reliant on your Prosthetist to provide you with the information you need. Yes, they are the professionals, and yes they do know what they are doing. But it is also about making sure there is always a consultative approach in creating the dream legs that a person wants in order to feel good about themselves.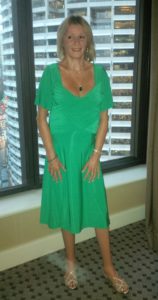 For the first time in over 30 years, I had the opportunity wear dresses, shorts, skirts and sandals. This life changing experience was meant to be a positive one for me. The devastation on having legs made where your calves were fatter than your thighs is not a great look for any woman. My self esteem was shot down, and I remember I cried as I didn't want to wear them.
With my current prostheses, it took more than 11 months to get these right, and I will say I am still not happy with them. A process where I felt every time that I wasn't being listened to. This is not about being difficult or 'whinging', this is about wanting to wear legs – and not prostheses as the professionals might see them. My legs need to be part of me, they need to represent happiness and joy, and enable better outcomes in life.
If it is important to me to have legs that look good, and there are no barriers from a health perspective to ensure this happens, then come on the journey with me to make this happen. There are times when other factors may come into getting things right, the availability of products and parts, resources of staff and time limitations. But it should not take several recasts and multiple adjustments in order to get things right. I had a long 11 month process where I became fed up and attempted to provide feedback to Management. They were not interested. Feedback and improvement was not high on their list of priorities.
I took it a step further and with a great deal of effort and time, I put together a letter of complaint which aligned to the organizations Mission and Values. This turned into a 7 page letter, with photo and timeline evidence, which was then sent to the Board.  Well, ZING! A wake up and take notice letter that resulted in a face to face meeting with the Deputy CEO, and long discussions on how improvements can be made moving forward. Although that was a satisfying experience, at the end of the day it felt like I was pushed into a choice of 'complaining' when that is not my nature.
We can fast forward to now, and life is about to change yet again. We are moving into a new world. One where Choice and Control is the mantra, and of course that is the NDIS (National Disability Insurance Scheme).
What does this mean for me? I have a dream! As I said, I don't just want prostheses. My goal is to have legs. Legs that are part of me, and make me feel confident and happy every time I wear them. But in this new world, how am I going to make my choice? Who and where do I go for to get information? How do I know that the information and choice I make is the right one?
Life has no guarantees! However, the importance of informed choice is the only way we can achieve this. So what does this really mean?
Informed choice requires amputees to be supported to assess the past performance and outcomes of providers. This empowers us to choose higher performing providers and explore these options to enable better outcomes.
The enablers of choice as I see it are:
Access to information. Whether that be in the form of resources, or a conversation with a Prosthetist. We need to know all of the options available to us.
The power to choose who I want to form a patient/professional relationship with. I would most likely want to 'interview' or 'meet and greet' a person before signing up to have them make my legs.
Have the opportunity to think about other options and alternatives to what is on offer now.
Supported in the decision making process if needed. Where do I go, who do I contact if I need more information or assistance?
For me, nothing will ever beat the relationship you have with your Prosthetist. You need to have trust, reliability, patience and be a great listener! Get to know the person and go on the journey with them, this will create better outcomes. Also, if you can laugh along the way, that helps too.
And remember – knowledge is power!